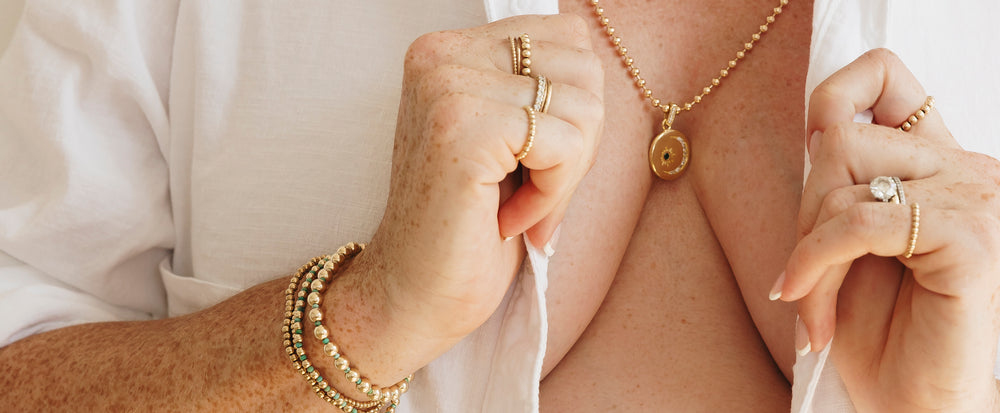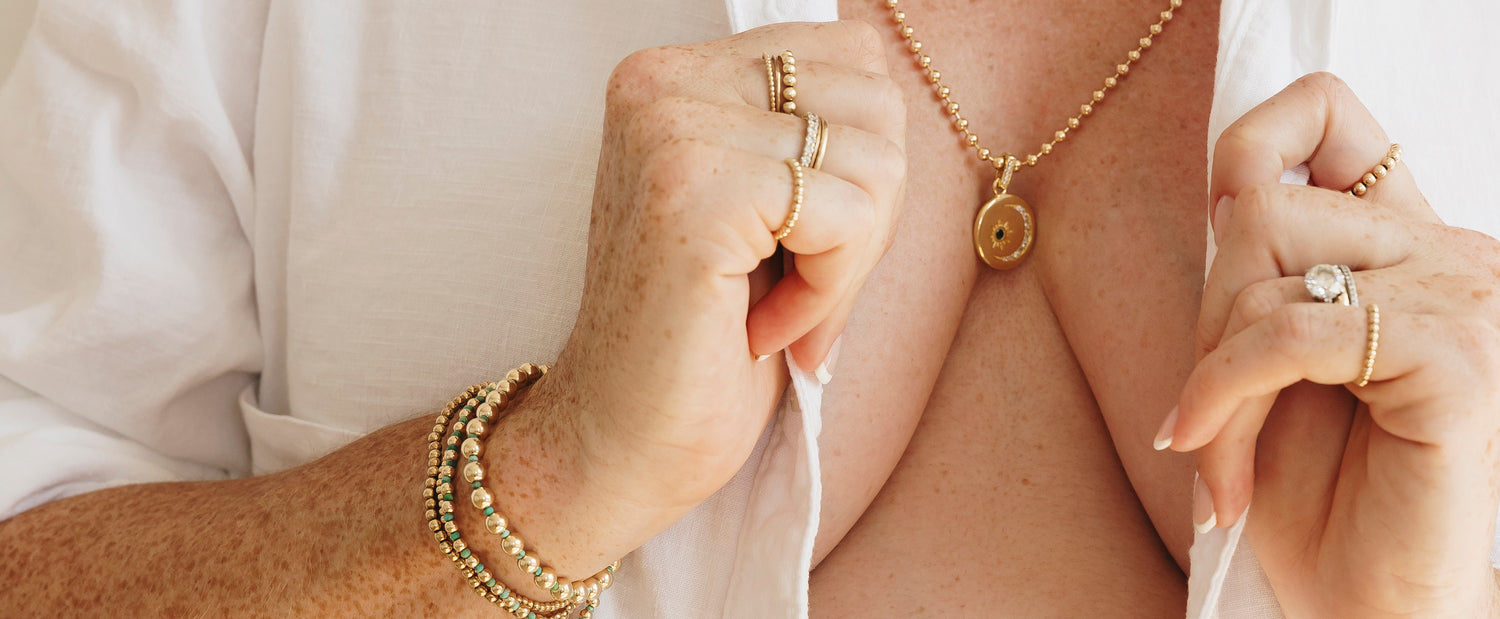 ALEXA LEIGH x CAMERON OAKS ROGERS
Coming off of summer highs and transitioning to fall, it can be difficult to adjust to a new schedule and new routine. Our rhythms shift and start to feel off balance. The color green represents finding harmony through the changes and historically, the moon has been used to represent the passage of time and cyclical change aligning with themes of femininity and balance. 
FIND BALANCE
SHOP THE COLLAB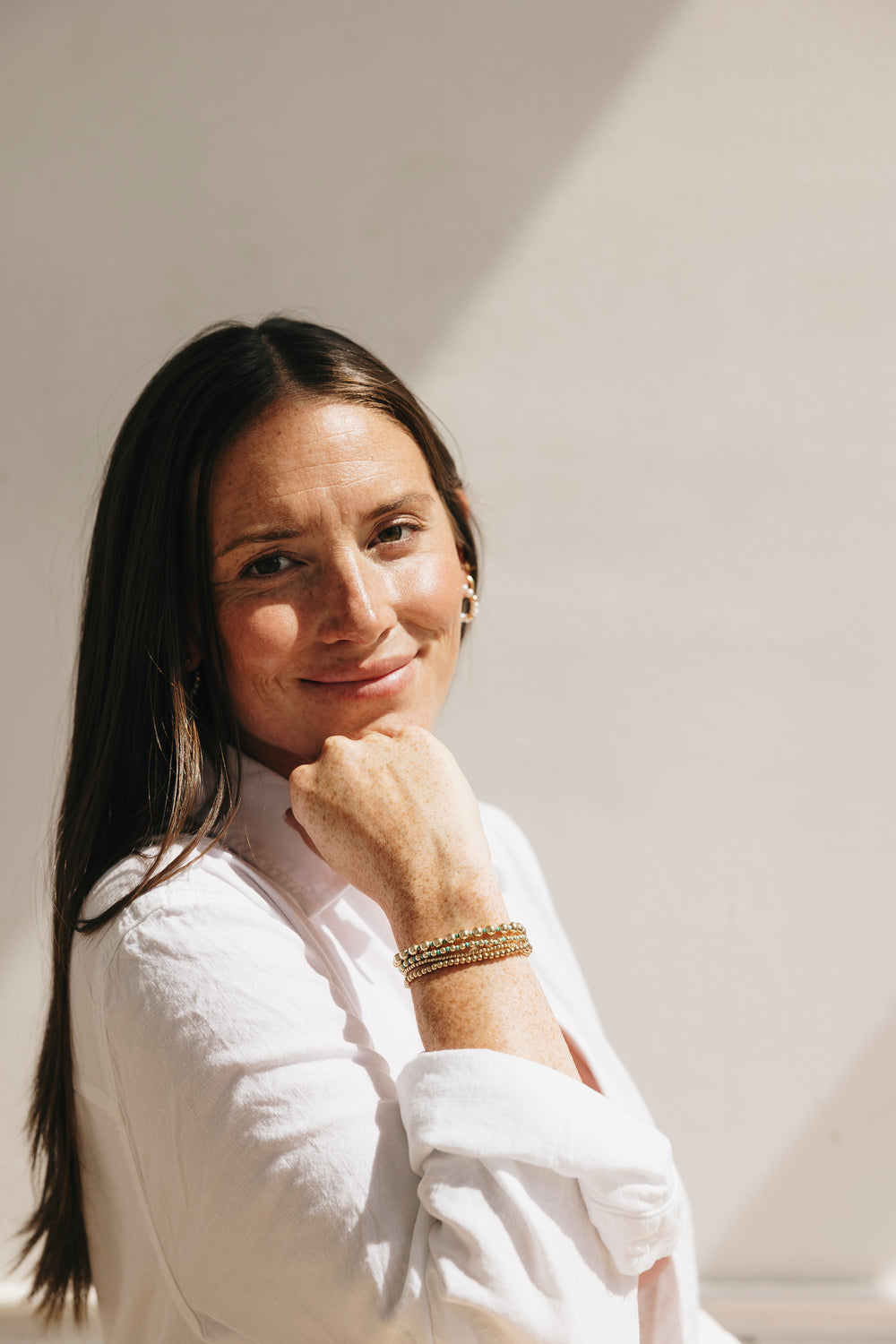 A note from Cameron
"As a longtime fan and consumer of Alexa Leigh, I am never not wearing my balled jewelry. It is a second skin for me, and my community knows that! So when I thought about who I'd want to launch my first-ever brand collaboration with, it was a no-brainer. As someone who loves an everyday jewelry stack, this is my dream collection to wear and share with the FF Family.
This Fall brings one of the largest changes I'll face - bringing home a baby and growing my family. As excited as I am for this new chapter, I am also experiencing some nervousness around all of the upcoming changes. These green-colored pieces and moon charms are my personal reminders to find harmony, lean into my femininity, and focus on the things that help me feel balanced and grounded."
a note from alexa
"I'm a big fan of Cameron's honesty and authenticity about all things. She's been a supporter of the brand for a long time and really embodies the spirit of Alexa Leigh. She puts the pieces on and never takes them off! It only made sense for us to come together and get creative. We've been talking through ideas for a while now, but felt like fall was the perfect time to share this collection with all of you.

Fall always brings up mixed feelings for me. Excited to go back to school, but anxious and nervous for the change in routine. As a kid, reuniting with my friends again after a summer apart always brought up a lot of emotions. As a true introvert, it was always a difficult transition. Now that my kids are in school, it brings up similar feelings. I am excited to get back into a routine, but nervous about the classroom changes, saying goodbye, separation, new friends, getting older etc. We designed this collection to be a gentle reminder to breathe and find balance and harmony through the seasonal shift. Change is inevitable. You can fight it, or embrace it with grace. I'm doing my best to choose the latter, and I hope this collection inspires you to do the same."